The VATMOSS fiasco has now come into EU law, and although the UK government has offered some concessions, many producers of digital patterns have simply stopped supplying them.
I had a mini spend up just before the 1st January deadline and picked up a few patterns which I'll use during the next few months.   However one supplier that I've used in the past is still supplying downloadable PDF's at time of writing.   Dog Under My Desk designs fabulous, practical bags.   Her site is full of free tutorials as well as her PDF pattern shop.
When you buy a pattern, you get a PDF to download giving very detailed, illustrated instructions, plus the pattern pieces.   I've had the Zip and Go Bag pattern for some time now, and I made a Frozen themed bag for youngest Craftyguidelet as well as a more grown up version for a friend's daughter.   Of course, eldest Craftyguidelet wanted a Frozen bag too, so I finally got round to knocking it off of my WIP list.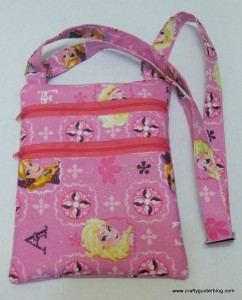 The pattern is very easy to follow, and don't be scared of the zips.   They are a cinch to put in.   I do end up talking to myself to triple check which order the pieces go together though.   Read three times, measure twice, cut once!
The fabric needs to be cut in a certain way along the grain so it doesn't stretch which is all dealt with in the instructions.   I'm a bit stingy with fabric so I didn't fussy cut the bag to give a perfect Elsa orientation in the centre of the bag.   I knew the girls wouldn't mind as long as someone's face appears somewhere.   Perhaps next time I'll get to make one for me, although I don't think pink is my colour.
Have you got a long list of things to get made this year?