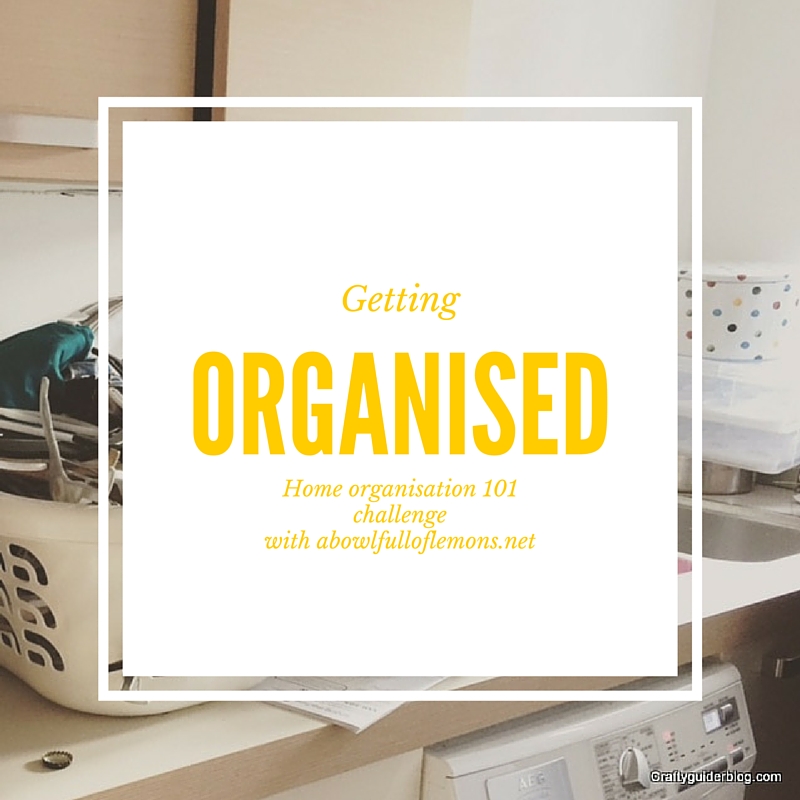 I'm halfway through my organising journey with A Bowl Full of Lemons and I thought I'd reflect on how I've done so far.
Week One and Two – Kitchen and Utility Room
The kitchen and utility room are still organised.   I just need to train the other members of the family to put things away in their new homes (or just put things away!).   We've bought a basic IKEA TROFAST unit to store our recycling in, so that the first thing you see when you come in the front door isn't baskets of paper and plastic bottles.   Mr CG painted it cream to match the cupboards and it's working well.
Week Three – Dining Room
This was my first unfinished task.   I was ill this week and the photos I dragged out of the cupboard for sorting sat on the side for weeks.   I've sorted through a few, but the dining room/Craftyguidelet craft room is a huge job.
Week Four – Launch Pad
Back to success.   We bought a 2×2 KALLAX unit from IKEA with 4 baskets so there's one space for each member of the family.   The Craftyguidelets are getting good at storing away their shoes, gloves etc. so there is less "Mummy, where's my other shoe?" going on in the mornings.   I'm usually quite good, but Mr CG needs training up.
Week Five – Living Room
This was my week off due to a chaotic volunteering week.   The living room is OK apart from my sofa which is usually covered (and surrounded by) admin, magazines, craft projects etc.   I still have a magazine mountain to sort, but I've started trying to manage my admin using The Sunday Basket idea.   Now my wardrobe is organised, I have somewhere for my WI and Guide bits to go, and I'm getting through the magazines faster than they come through the door.   There are a couple of accumulations of papers starting, but I can have people over without worrying about the state of the place.
Week Six and Seven – Master Bedroom and Closet
To boost my resolve for future weeks, my bedroom looks great now.   Anything that hangs around starts to bug me really quickly so I want to put it away.   We are now thinking about a new carpet to replace the shabby, nail varnish stained cream one we were left by the previous owners.   I also need to start making some new clothes that actually fit and suit me to fill the gap in the wardrobe.
Week Eight – Kids Closets
Unfortunately I find myself banned from the girls' wardrobes as it's their normal hiding place for presents.   So with Mother's Day coming up this Sunday, I don't get access until next week.   I've started trying to sort out the office/craft room instead, so if anyone can lend me a large warehouse to use as a craft room, I'd appreciate it!
It's the linen closet for week nine of the challenge which I think will be easy to sort out.   Famous last words?
How is your spring cleaning going?