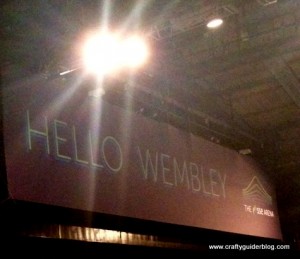 Wem-ber-leee, Wem-ber-leee, Wem-ber-leee!   No, sorry.   It's not football, it should be "HELLO WEMBLEY.   GIVE ME A SCREAM!!!!!"   Cue 10,000 Guides and their leaders at Girlguiding UK's Big Gig to raise the roof of Wembley Arena for the biggest event of the Guiding calendar in the eyes of my Guides.   A real pop concert with real chart names.
On Saturday 4th October, 13 Guides, one Guide mum and 2 leaders left a train station in Hertfordshire to go down to Wembley Arena to join 10,000 other Guiding types for the second Big Gig of the day.   The Guides were excited.   The mum was excited.   The 2 leaders, let's face it, were doing their duty to their Guides and going along so the Guides didn't miss out on the trip.   I've heard of Union J and Little Mix but couldn't (and still can't) identify any of their songs.   I think I've seen Diversity do their thing.   Kingsland Road?   Mike Dignam?   Neon Jungle?   I don't think I've ever heard Ken Bruce play any of their songs on Radio 2 so there's no hope for me there!
I tweeted about the event in the morning and after one of my tweets, Mike Dignam followed me on Twitter!   "Wow!" I thought, "This will impress the Guides!".   Nope.   They'd never heard of him either!
After a bit of Google and Wikipedia revision, I felt prepared for the trip (one member of Union J has strange eyebrows so I'm sure to recognise them, therefore Kingsland Road will be the ones without the eyebrows).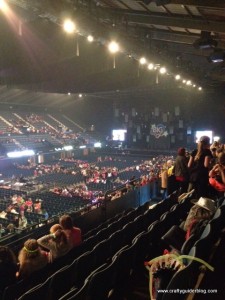 A completely smooth trip by train and tube and we took our seats.   As you can see from the picture, we were quite a way back, but as tickets are allocated by lottery, you don't get to choose.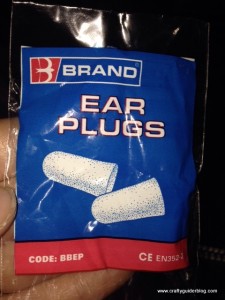 These were a great find thanks to the #BigGig2014 hashtag on twitter.   They hand them out for free at the information counters and someone had tweeted about it.   They came in handy for the Little Mix set at the end!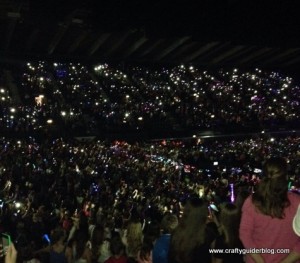 10,000 Guides with their phones lit up is a fantastic sight.   Add to that the flashing bunny ears, freaky hair and illuminated squid heads and it looked brilliant.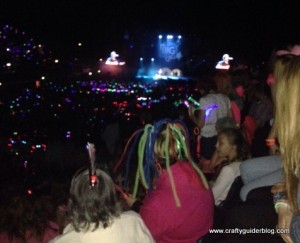 And then I became a cool Guide leader.   Mike Dignam came up on stage.   "He's WELL fit!" came the cry from the Guides.   "Is he the one that follows you on twitter?".   Kimberly Wyatt (ex-Pussycat Dolls and Got To Dance judge – I've heard of her!) was hosting and posted a selfie on Instagram which I liked and commented on on behalf of my Guides.   I was a social media queen for them.
Stooshe was a surprise, and were a hit with the Guides.   Ken Bruce has played them so I was able to show my knowledge there too!   And I'd heard of Stacey Solomon too.
Once Little Mix had finished, we managed to dash to the train station before the rush and got home before I turned into a pumpkin.   I even got some thank yous from the Guides without them being nudged to do it by their mums!
The Big Gig is a fabulous event organised by Girlguiding UK twice a year all over the UK.   I've been going fairly regularly since they started more than 10 years ago.   I've seen Ed Sheeran (before he was a megastar, absolutely brilliant with just a guitar and some pedals), Orson, Shayne Ward (Google him if you don't remember), Pixie Lott, Eliza Doolittle, Lawson, Conor Maynard, Dionne Bromfield, Katy B, Olly Murs, Amelia Lily, JLS, Scouting for Girls, Lil' Chris, Sugababes, Aleesha Dixon, McFly, The Saturdays and loads more.
The only way Guides can enjoy events like this is if more people volunteer.   We were only able to go because of the Guide mum who was willing to step in and be an extra adult.   You don't have to be a leader to support Guiding.   We need people to test badges, do accounts, help once a term in meetings, or even come to pop concerts.
And by the way, Mike Dignam has since unfollowed me on twitter.   Obviously handmade cards and news on the Craftyguidelet's broken arm weren't his thing.   His loss!