Mr Craftyguider escaped to the supermarket with the Craftyguidelets on Sunday.   He's normally allowed out midweek with a list for the top-up shop and to stock up on his gluten free supplies.   However, Sunday's trip was unscripted and he came back with two boxes of premix cupcake kits.
I don't like buying these kits for three main reasons:   a) they probably contain all sorts of unnatural bits and pieces, b) I want my girls to be able to add butter, flour and eggs and produce tasty cakeage, and c) they contain gluten so Mr CG can't help us eat them which means my diet goes for a burton for another week.   However, Mr CG and the Craftyguidelets did have fun making them, and they do know that cake normally comes from ingredients and not a packet.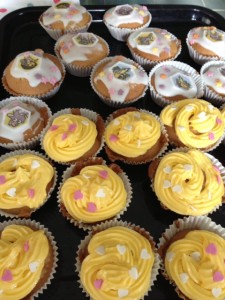 To go with the beautifully decorated cakes, we will be eating:
Monday   Beef stroganoff with rice
Tuesday   Ham, egg and chips
Wednesday   Cottage pie
Thursday   Creamy pesto chicken with pasta
Friday   Oven baked salmon
Saturday   Freezer dive
Sunday   Roast
Linking with Mrs M's Meal Planning Monday.   I'm off to drool at other people's menus.   Join me?