Last month I joined the Tales from Mount Pleasant #WIPslinky party.   The idea is to confess to your work in progress projects and then actually get round to making them.   The link opens near the end of the month, and you have a month to finally get round to finishing those projects that you have been getting round to 'one day'.
I shared just part of my WIP collection and chose to finish my daughters' summer dresses.   After a packed summer, they are finally finished.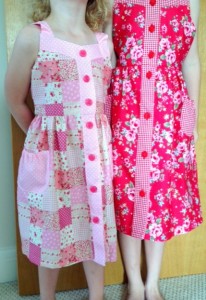 It is probably the last warm day of the year but they have worn them.   I also made them in the next size up so they get to wear them next year.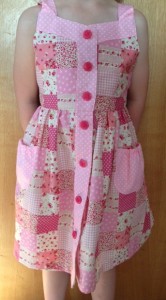 My 4 year old loves pink, so I chose these gorgeous fabrics from Sew La La with rose shaped buttons.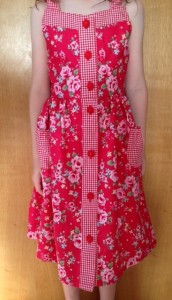 My 6 year old really suits this red colour.   It looks like Kath at Sew La La has just got some more of this Gypsy Rose Red fabric so I might stop by for some more.
Being more aware of my WIPs has led me to finish more this month.
I've wanted to make a case for my tablet for some time, and I used some of these gorgeous fabrics to make a patchwork padded case.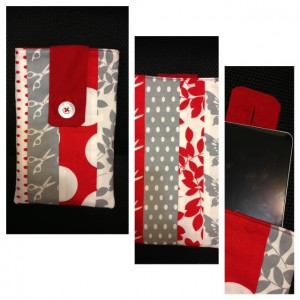 I'd promised my friend that I'd make her a draught excluder.   I managed to finish it in time for a visit and even managed to blog about it.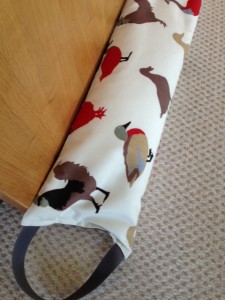 I have also cut out fabric for a collection of frame purses that have been sitting in my cupboard for months.   They will either be given as presents or put on sale in my shop.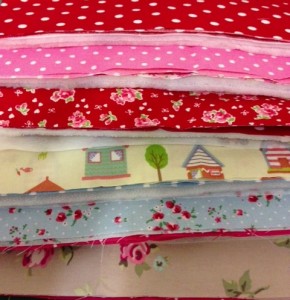 And for next month's entry?   I'll be revisiting my quest to make all the bags in Lisa Lam's Bag for all Reasons book and aiming to complete the 'too cool for school satchel'.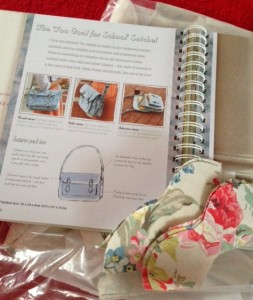 I'm using a gorgeous Cath Kidston upholstery fabric and all the bits are cut out and stashed in a bag ready.
Along the way I really should finish making the new uniform for our Rainbow Guide mascot, Olivia, a banner for the Rainbows to use at Remembrance Sunday parade, and also transforming that pile of fabric pieces above into frame purses.
Come on everyone.   Join the WIP busting crusade and post your WIPs on the linky tool and let's cut fabric, use papers, grab that pattern or kit you've saved for a rainy day and do what we all love to do – CRAFT!