I have seen lots of tutorials on how to make a teacup pincushion (including this one), so a few weeks ago I found a pretty teacup at a fair with a view to making one for myself.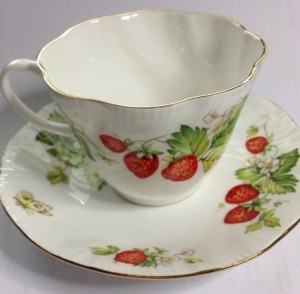 It sat on my desk and all my sewing bits and pieces accumulated in it, but it never got made.   Until Saturday that is when the Craftyguidelets were "tidying" their playroom (translated as moving all their toys out and into the hallway so I could vacuum and being reluctant to move them back).   To stop myself from getting frustrated with the progress downstairs, I decided to get creative upstairs.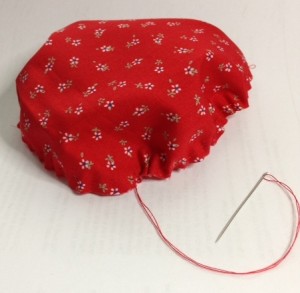 First of all I drew a circle on a scrap of fabric using the saucer as a template.   I then gathered around the edge to make a dome.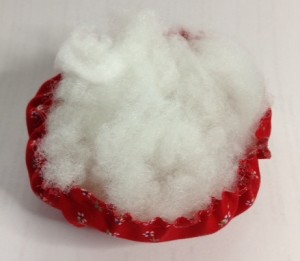 I added stuffing to this.   I've seen other people use scourers to keep their pins sharp, but I had stuffing in my stash.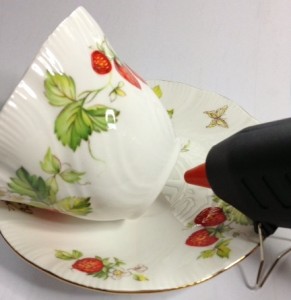 I glued the cup to the saucer using my hot melt glue gun and then put an extra bit of stuffing in the bottom of the cup.   I ran some glue round the rim of the cup and pushed the fabric dome inside.   I think I should've used a different glue as the hot melt dried very quickly and my fabric wasn't evenly stuck.   I was able to push a bit more stuffing inside before gluing the last bit.
Ta dah!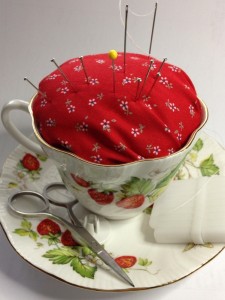 Linking to the Handmade Harbour Handmade Monday and Pinaddicts Challenge blog posts.   See what everyone else has been creating.