Yes, yet another craft magazine has launched, and another £4.99 of husband's hard earned cash has been spent.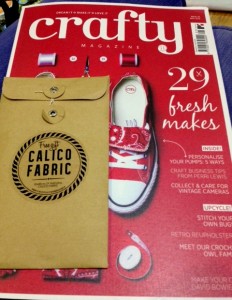 The free gift on the cover of Crafty Magazine is a 30x45cm  piece of natural calico and inside there are 3 suggestions for using it: embroidering it, embroidering it and making covered buttons and stamping it to make a flower brooch.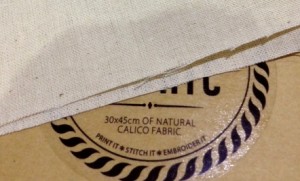 There are plenty of mentions of crafty blogs, websites, and books, and Sarah Corbett of the Craftivist Collective and Mr X Stitch will have regular columns.   Crafty projects include making a collection of bugs from fabric, customising pairs of Converse, making a geometric botanical sculpture (blocks of oasis stuck together and covered in dried flowers), re-upholstering chairs, a simple tote bag to sew, crocheted owls and a scary looking David Bowie paper doll.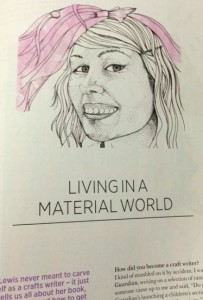 There is a strong emphasis on designers and artists, with Laura Clempson (Cupcakes for Clara), Iona Thomas (Graffiti Life), Mel Elliott (I Love Mel) and Perri Lewis amongst others.
It is a very 'arty' magazine in my opinion, and doesn't really fulfil my requirements for a crafty publication.   Perhaps I am too old for an edgy mag like this.   I prefer a bit more craft and home style, but I will enjoy reading this copy and will keep an eye out for future content.   It won't be added to my (many) current subscriptions though.
I bought this magazine myself and haven't been paid for providing this review.   These are entirely my own opinions.