One of my many sidelines on the craftyguider website is making pin badges on my badge machine.   I have three dies – 25mm, 38mm and 58mm – and I love upcycling pictures, maps and making my own designs.
These badges were made for my Rainbow unit as the leader had come up with the idea of having little groups for activities based on the Rainbow Magic fairies.   Rather than just have the colours, I copied some pictures from my daughter's book and came up with these.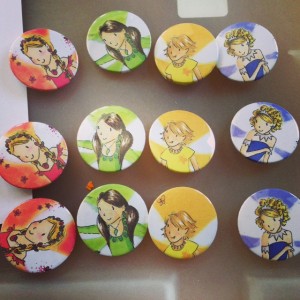 Recently I've been asked to produce some hen night badges for two different hens.
Hen party one was themed on the Miranda TV series.   The hen is a regular customer of mine from twitter for various badges and sewn items, so it was wonderful to play a part in her celebrations.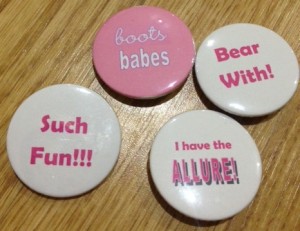 Each person on the hen do would be given 4 badges as a gift.   An evening in front of the TV pinging designs back and forth on twitter produced these designs.   One dodgy shoulder and 84 badges later, our hen had a bag of badges to dish out.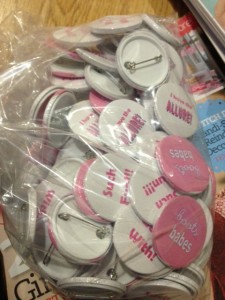 Hen party two found me on a craft stall at a local fete.   She had been a Guide at the unit I now run, and her friend was getting married.   As all the profits from my sales go to the Guide unit, she was happy to place an order with me.   She had even dreamed up the artwork which was fabulous.   It was a Guiding theme with all the participants in the hen's patrol, and the hen had some interest badges to earn for her badge sash.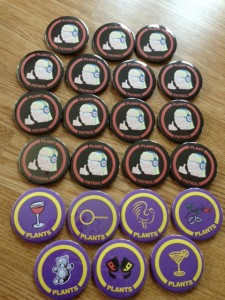 All I had to do was convert the artwork and produce the badges.   I wish I'd had this idea when I got married!
My badge machine gets a lot of use with name badges for my WI, a badge making activity at school craft club, business logo badges for people to use at craft fairs and trade shows, and badges for all 300 participants at school sports day, as well as making badges and fabric covered mirrors for sale at craft fairs.
What would you have on your personalised badge?