Today the snow held off long enough for me to get to Bluewater in Kent for Creative Stitches and Hobby Crafts.
It was the first time the show was in Bluewater at the new events venue there.   It wasn't the biggest craft show I've been to – the Creative Stitches part was a bit disappointing, unless you wanted ruffle scarf wool!   There were only a couple of fabric stalls, not a lot of wool, and a few cross stitch places.   In the Hobby Crafts section, there were some absolutely fantastic card samples displayed.   I wish I was that talented.
Of course I still managed to buy a couple of bits.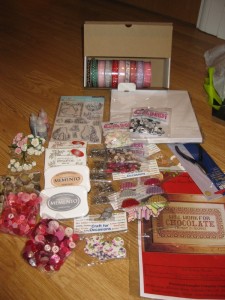 I always end up getting buttons and ribbons from Fantastic Ribbons.   I also got a bunch of card candi including this fantastic print.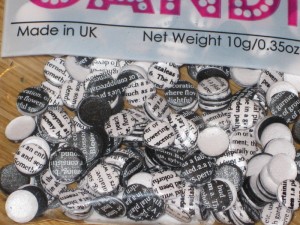 I bought some charms and other embellishments and couldn't resist these sparkly purses.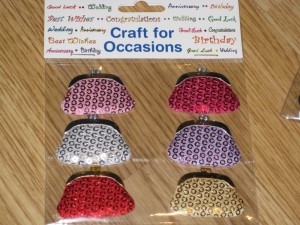 And this pattern was just waiting for me to buy it!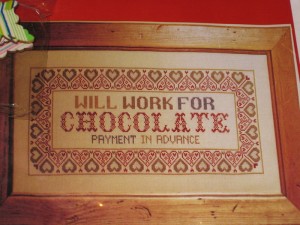 But the best bit of the day was meeting up with @meanyjar.   When we found out that we would both be going to the show, we agreed to meet up for lunch.   As an after thought, we also went armed with hooks and wool for a crochet lesson.   After a few texts describing what each other was wearing (I, of course, went as a blue fabric cat, as in my twitter profile), we located each other and found somewhere for lunch.
After a lovely lunch and an even lovelier chat, Jeany treated me to a crochet lesson.   Unfortunately, I seem to have very disobedient fingers.   Jeany was really patient, my fingers were occasionally compliant, and I managed a bit of treble crochet!   I unravelled what I did at lunch, but I've since done this.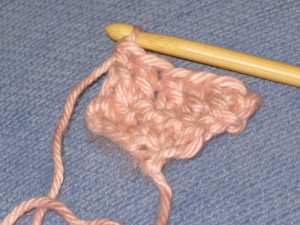 I know it's uneven and probably has loads of mistakes in it, but I'm so pleased I've done it!   More practice, a better hook, and better trained fingers and I'll be crocheting properly.   Thanks so much for my lesson Jeany!
After we said our goodbyes, I then had to run the gauntlet of the Bluewater shops.   Of course I got drawn in, and also got pulled into Hobbycraft as I drove past on the way home.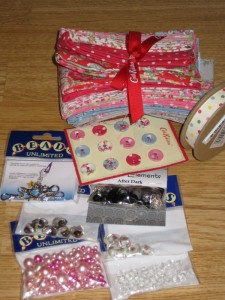 I also bought some bits for my Popular Crafts heart swap which I'm keeping secret.
And finally, I bought hubby a Creme Egg to soften the blow of the credit card bill!