The last week of term.   I can't believe how quickly a whole year has gone.   One little girl is moving to full day school in Reception and the other will be in Year 2.   Am I that old? (Don't answer that!)
I haven't been participating in Meal Planning Monday for a few weeks as life has been so hectic with all those end-of-year concerts, meetings for next class teachers, planning for the summer, and life in general.   But as I have a few minutes this morning, and I need to plan meals for this week anyway, I've allowed myself a bit of a break to blog.
My main source of inspiration this week will probably come from these two books.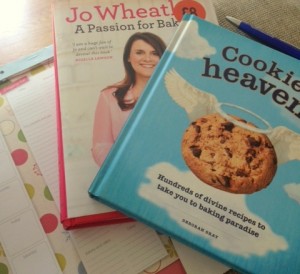 The Craftyguidelets are making cards and gifts for the teachers as usual, and this year with 9 people including teachers, teaching assistants, a nursery nurse and a trainee to include, we are going with some baking action.   There will be a theme with the baking, but that's another blog post.   With a 'mocktails and cake' picnic to prepare for the Guides as well, I think I need to check what supplies I have in the cupboard!
Unfortunately I cannot am not allowed to live on cake alone, so this is what I am planning for the week ahead.
Monday: grilled salmon and veg
Tuesday: jacket potatoes and salad
Wednesday: macaroni cheese
Thursday: ham, egg and chips
Friday: freezer dive
Saturday: BBQ if it's nice, grill if it's not
Sunday: cottage pie
Linking up as usual to the wonderful Mrs M's Meal Planning Monday blog.