One sunny Saturday, the Craftyguider family plus Mother-in-Law needed a day out.   Mr Craftyguider found Houghton Mill, a National Trust property near Huntingdon, so we piled into the car and off we went.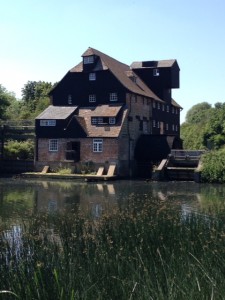 The mill was almost demolished until the local villagers joined together to restore it to working order.   It is in a gorgeous position on the Great Ouse river, and many people were using the water around the mill for punting, kayaking, canoeing and swimming while we were there.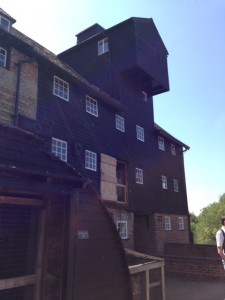 We arrived just before lunch and so had a lovely lunch in the tea room.   There were the usual jacket potato, sandwiches and kids lunchbox selection.   They made up sandwiches to order, and we went back later on for drinks and ice creams.
With the Craftyguidelets in tow, it was important to keep them amused, and there was a great booklet available to buy to do that.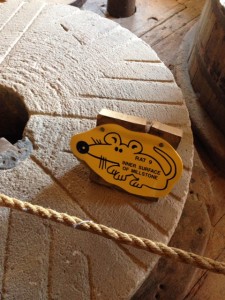 The booklet gets you to look for the yellow rats which refers you to the relevant section of the booklet.   It was also useful for the grown ups to get extra information on a self guided tour around the mill.   There were also lots of other child oriented activities dotted around including a telescope to spot wildlife through.
A couple of the most popular activities for the Craftyguidelets were the model of the mill and making flour.
The mill model included tipping a jug of grain in one end, winding it through the mill using an auger, and tipping it out the other end.   There were also sacks to hoist up, and a working waterwheel.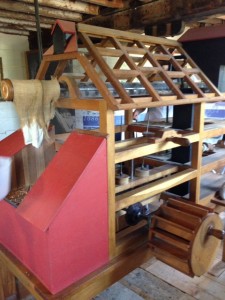 Once we had dragged them away from the mill model, they then became addicted to the millstones where they ground their own flour.   I don't think I'd be able to wait for them to grind enough flour to make a loaf of bread though.   Conveniently there was some for sale if you wanted to buy it.
As it is an old building, you have to negotiate low beams (not easy for a 6'4″ husband), uneven floors and stairs.
The mill also used to be a Youth Hostel.   I don't think I would've enjoyed to stay there with all the rats around, and the beds don't look that comfy.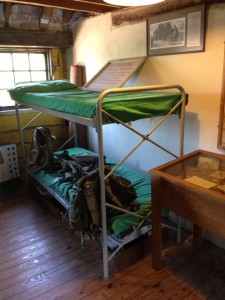 The mill is still working, but unfortunately for us, it's only on Sundays and Bank Holiday Mondays.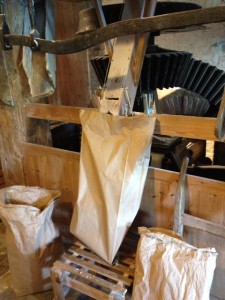 After walking round the mill, we went for a walk outside.   We could've done with a map as we took a wrong turn, but we just turned round and followed the path back past the swan and her cygnets.
The girls then got their bikes out and had a cycle round the grassy car park, before we went back home.
The wheat milled in Houghton Mill is grown at another National Trust property at the Wimpole Hall estate.   Perhaps that will be our next trip.