After all the fun I had with the Popular Crafts swaps before, of course I was going to enter the next one.   Unlike the button, owl and heart swaps, Spring wasn't that obvious at first.   Added to that, a bad back stopped me from doing anything creative for some time.
I was paired with @Gemma_Winter whose likes included sparkly things, unusual things and kitsch.   Having changed my mind several times about what to make, I had a snoop on Gemma's twitter profile and saw that as well as her love of fabrics and patchwork, she also loves baking.   I've had some insulbright insulated wadding in my stash for some time so I thought I'd have a go at making an oven mitt.
On one of my many browses through the fabrics online, I happened upon this lovely fabric from Fabric Rehab.   The flowers and birds said 'spring' to me, and I thought the pattern was fairly retro and kitsch.
And here is my oven mitt.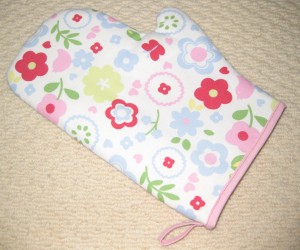 I was so pleased with how it came out, I've already cut more out to put on my website.
I also needed a treat so I went sparkly and unusual with an applique flower and some sea themed charms.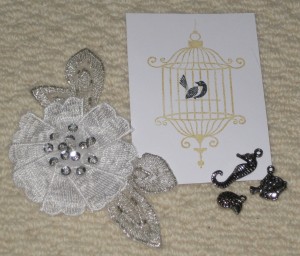 The birdcage picture is one of my hand-stamped images that I send out with my Craftyguider purchases as a compliment slip.
I can't wait for Gemma's parcel to arrive!
Next swap is a Union Jack theme.   Thinking cap on.