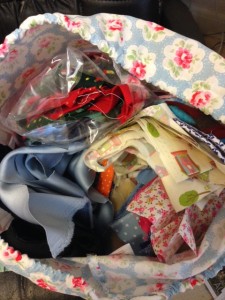 I have a lot of fabric.   I have confessed before to my addiction; I see something, I like it, and I'll buy a metre or two because "I'll make something from it" and then never do.   This is a photo of my scraps bag which are defined as smaller than a fat quarter but bigger than a 5cm square.   I use a lot to make mirrors, tissue holders, and rings amongst other things, but it's still full to bursting.
I read on Instagram about the #economyblockalong on @sewjustinesew's feed and spotted an opportunity for a fabric stashbuster, a step up for my current patchwork skills, and a community feel to my crafting should I need support.   There is an excellent tutorial on Red Pepper Quilt's blog, but I thought I would drag out my Sizzix quilting die's that I bought some time ago to help me cut the pieces out.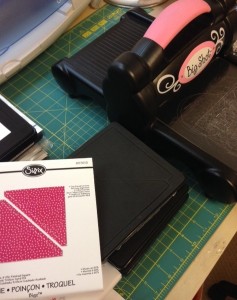 I found 3 dies that gave me a vague approximation of an economy block and made a trial square.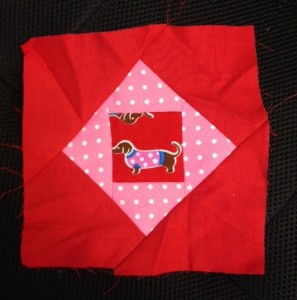 Yes, I know it's not ironed, and it still needs trimming, but it's a trial, OK!   In a true economy block, the corners of the centre square should touch the centres of the 'diamond' square, so I'm going to have to weigh up the convenience of using my dies to cut out rather than doing it the conventional way.
Is anyone else doing the #economyblockalong?
Linking to the Handmade Monday linky party.