This week I bought Lisa Lam's new book – A bag for all reasons.   I have her first book too, The bag making bible, but have just flicked through it and not actually made any of the bags.   This is what happens with most of my craft and recipe books.   I hear about them, buy them, flick through them, plan to make loads of new projects, and then put them on the shelf.
Recently, I've started the weekly bake off which has introduced me to actually making things that I wouldn't necessarily have tried before.   I blogged about that a few days ago.   This week's cherry cake was a failure of epic proportions; tasty but not pretty!
During my last, particularly slow, craft fair, I thought of transferring the idea over to a craft book.   I've decided that A bag for all reasons will be my challenge.   Last night during the Eurovision scoring I ordered loads of fastenings and clips etc. so I can start my journey.   I've not set myself a time limit as life still goes on around me and it's meant to be fun!
I had a quick practice with a Lisa Lam pattern I'd bought and downloaded from her website for a Sugar Loaf Pouch.   Once again I'd loved it, bought it, and not made it.   I still don't have a use for it but I made it just the same!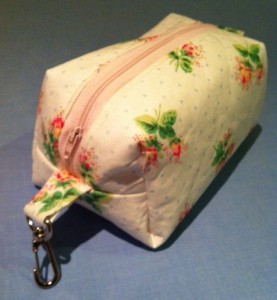 I also made my daughter a hair clip tidy that I'd put off for no reason whatsoever.   It'll make getting her ready for school a bit quicker every morning.   Procrastination is dead!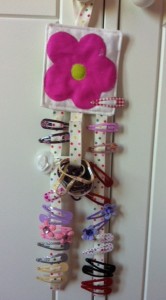 Looking through the new book, a lot of the techniques are lifted from the first one.   However, the patterns are new.
1. Geek Chic iPad Case
2. Compact Groceries Tote
3. Access All-Areas Pouch
4. Toddler-Friendly Backpack
5. Too Cool for School Satchel
6. Pleated Purse-Frame Purse
7. All-Sorted Laundry Bag
8. Fashionista Baby Bag, Changing Mat and Shoulder Strap Pad
9.  Bicycle Double-Pannier Bag
10. 3-1 Convertible Backpack
11. Terrific Tri-Fold Wallet
12. Train-Style Vanity Case
I'll be starting on the Compact Groceries Tote as I've got all the bits I need to start that already.   Look out for my #bagchallenge on twitter, and feel free to join in!