Recently I found @weeklybakeoff on twitter.   Amy tweets every week with one of the recipes from Mary Berry's 100 Cake and Bakes.   Once announced on Monday, anyone who wants to join in can bake the recipe and then post their pics by Sunday.   All entries are posted on the Weekly Bake Off blog  and a guest judge selects the star baker.
I don't have the 100 Cakes and Bakes book, but the recipes seem to be in Mary Berry's Baking Bible which I do have.   I thought it was a brilliant idea as I tend to get a recipe book and just stick with a few recipes.   This would make me actually try things I wouldn't normally.
My first week was 3 weeks ago for the American Chocolate Ripple Cheesecake.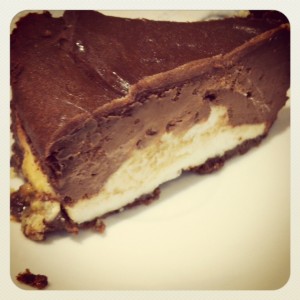 I would never have tried this before.   I did vary from the recipe by making it gluten free as my husband is gluten intolerant, and it would've been too much for me and the Craftyguidelets to eat on our own.   It was delicious but incredibly rich.   It's not greatly rippled as my 3 year old helped me make it and she doesn't do subtle marbling!
The following week was chocolate and walnut brownies which I didn't make as the only nut eater in our house is the gluten intolerant hubby!   I could've adjusted it, but I thought it defeated one of the main reasons for making the cake in the first place.   Instead I made the Lemon Drizzle Tray Bake which Amy has made before and recommended.   I had some lemons to use up so thought it was a good idea.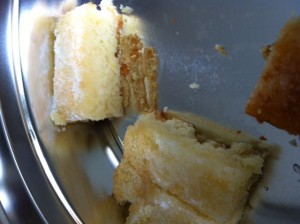 By the time I photographed them, a lot had gone.   This is the best recipe for Lemon Drizzle cake I've ever tasted.   Gorgeous!   Definitely one to try again.
I did try the madeira cake last week.   Another bake I would've overlooked as I always thought it was a plain cake.
Such a light, yummy cake with a hint of lemon.   Lovely!
I've also dallied with Mary's Blueberry muffins as I had loads of squishy blueberries in my last shopping delivery, and her Mincemeat Loaf Cake as I've got lots of homemade mincemeat to use up.   Hubby has benefited from some gluten free chocolate fudge muffins which were in April's BBC Good Food magazine.   You wouldn't realise they were gluten free.
This week is Cherry cake.   My book lists it as English Cherry Cake so the lovely Amy checked my recipe to see if it was the right one.   The quantities are different but the recipe is the same, so I'm heading to Sainsburys tomorrow for ingredients.
This is rubbish for my waistline but so much fun!