Today, my 3 year old Craftyguidelet and I braved the mud at Hatfield House to go to the Living Crafts Fair.
The fair is huge.   It's made up of lots of marquees with demonstrations of sculpture, oil painting, pot throwing, paper making, chainsaw carving and many, many more.   Alongside this are dozens of designers and makers selling their crafts.
If I wasn't under time constraints (there's only so much a 3 year old can take!), I could've spent all day there.
These are some of my purchases.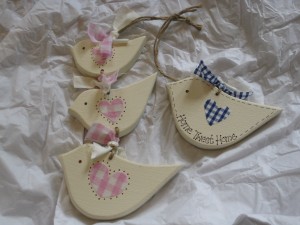 These come from Fiddley Diddley who also make little pottery items.   The pink birds are a gift for my daughter's friend, and the Home Tweet Home bird is mine.   As a home bird and twitter addict (@craftyguider if you didn't know!) it was perfect for me.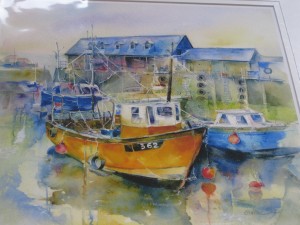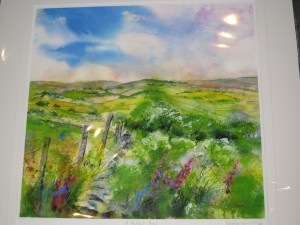 These prints are by Sheila Gill.   The boat will be my dad's father's day gift (rather than the usual B&Q vouchers), and the landscape (Perfect Day) is for me.   The photo doesn't do it justice.   I could've bought loads more – if I'd had the money of course!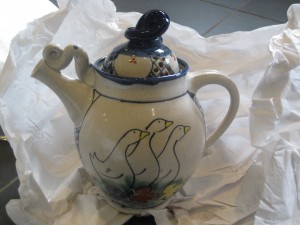 This will be my best friend's Christmas present.   It's a long story, but all our presents are duck related, so if I see something, I have to buy it!   It's by Studio Pottery.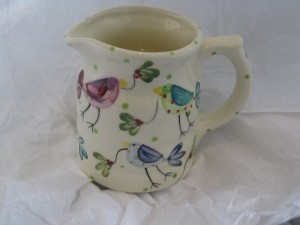 This jug was so pretty!   It's by Sarah E Stoker from Barnsley.   She doesn't have a website but takes enquiries via email sarahstoker@hotmail.co.uk   Another addition to Craftyguider Towers.
I also bought goodies from Emma Ball and Koruarts which I can't show as they are gifts for people who may read my blog.
Living Crafts is on until Sunday 13th May and I urge everyone to don their wellies and go.