Very occasionally (ahem!) I visit Hobbycraft and buy essential (ahem ahem!) crafting supplies.   One essential purchase was a Clothkits shift dress kit in the sale section.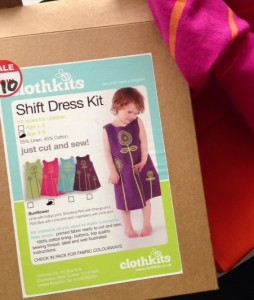 The price was reduced from £19.99 to £10 which was at a level where even a finished dress would be as expensive.   They had an age 4-6 pack in youngest Craftyguidelet's favourite pink colour so into the basket it went.
Clothkits contain everything you need to make the dress.   In this one there were buttons, thread, lining fabric and printed fabric with all the pieces marked out in the three sizes.   The fabric was used as a pattern for cutting the lining, and the instructions were really clear.   Even after sewing one shoulder seam back to front and then inside out, I still managed to complete it in an afternoon (along with all the normal school runs, meal preparation etc.).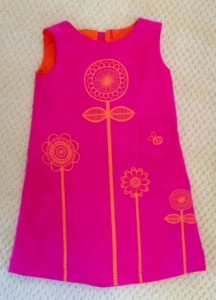 I can't believe how professional it looks!   Most importantly Craftyguidelet loves it and wore it the following day.   It survived a pretty hectic day in Legoland and is currently in the washing basket waiting for it's next test.
The only criticism I have is the lack of size information to say what Clothkits consider the actual measurements of a 4-6 year old are.   Craftyguidelet is a slim 4 year old but I made the dress in a 5 year old size to give her room to grow into it.   I would say that it fits her now so perhaps I should have made it in age 6.
My only problem now is that my 6 year old wants me to make her a dress.   Back to the cutting table I go.
Linking to Handmade Harbour's Handmade Monday as usual.   Pop over to see what other crafters are getting up to.    Also linking to Crafty Girl Linky Party on EverythingEtsy.com for the first time.