Having spotted a tweet from @cubbykit asking for bloggers to review their craft kits for kids, I wondered if I was the girl for the job: a) I have a blog, b) I love crafting, c) I have 2 craftyguidelets who d) love crafting and e) it's half term!   I qualify and Cubby Kit agreed to send me a box to review.   Yippee!
As my girls are 5 and almost 3, Cubby Kit chose to send me a box suitable for 3-4 year olds.   A box arrived for 5-6 year olds instead which was OK as the craftyguidelets are both professional crafters after all.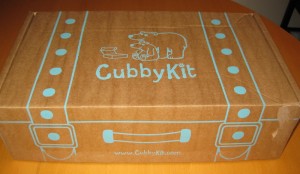 The box is addressed to the children which made it very exciting when the postman rang the doorbell.   Inside, the box contained everything you need (and more!) to complete three main activities, complete with full, child-friendly instructions, glue and spreader, paints, paper, and three brown paper bags containing the three main projects.   This month the theme is Outer Space.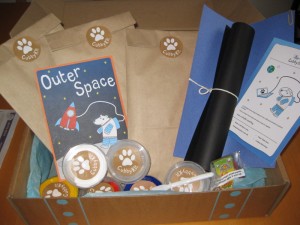 As eldest craftyguidelet has been poorly this half term, we chose to make the foam rocket and constellations wall chart projects as a team.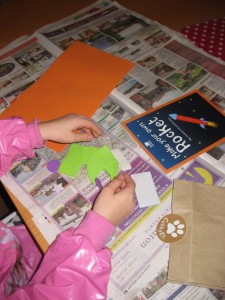 The first brown paper bag contained the precut foam sheets, foam stickers and double sided tape to make the rocket.   Both girls got the hang of what they needed to do, and mummy just applied the tape.   This is our masterpiece!

As we were making it, it sparked lots of conversations about space, what all the stickers were representing, where the rocket was going to and what it would be like to travel in it.   It didn't take long at all to finish.
The next brown bag was the constellations wall chart.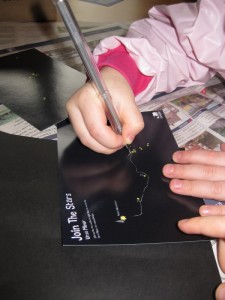 There were four cards and a silver gel pen to mark the constellations in a 'join the dots' style.   This suited both girls, but the constellations were a bit wobbly!   Once the cards were stuck to the black paper sheet using the supplied tub of PVA, the girls got to decorate their chart using the pen and some glitter glue and foam stickers.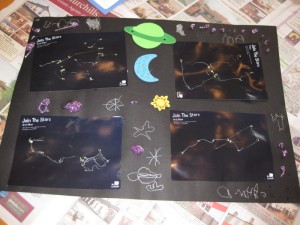 The other kit is a papier-mache sun, moon and earth to make which we'll attempt when the bugs have left the house.
The girls both loved working together on their kit.   There were ideas that I wouldn't have come up with on my own, and I do sometimes steer clear of paint and PVA in favour of crayons and stickers!   Cubby Kit also supply extra materials so you can go on their blog and look at other ideas, or just carry on creating your own ideas.
To find out how subscribing to Cubby Kits works, just click here.   I received the kit free of charge, but the opinions in my blog are mine and the craftyguidelets.