The beginning of 2011 was busy for babies amongst family and friends.   One friend's little boy has already celebrated his 3rd birthday, and two more are coming up in the next week. This gave me the excuse to use my Lili of the Valley stamps.   They are such fantastic quality stamps, and always give a clear image to work with.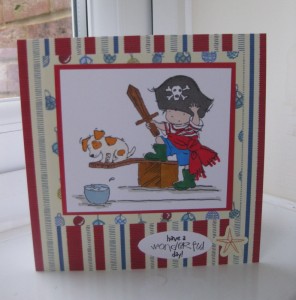 Lili of the Valley produce really cute images and I love this little pirate making his dog walk the plank.   Because I was colouring the image with promarkers, I used my memento ink pad so the outline didn't bleed.   I mat and layered with some nautical papers from my stash and accented with a starfish and a Craftwork Cards sentiment.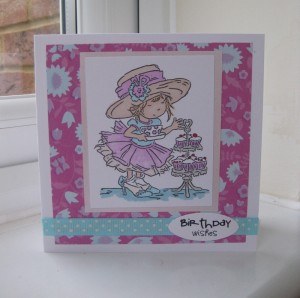 The colours on this card were inspired by the background paper.   The cute little girl and her cupcakes were again coloured in using promarkers and accented with an aqua grosgrain polka dot ribbon.
I still have another 3 year old to make a card for next month, and I'm sure I'll make up some more for other occasions during the year.   I have some lovely wedding and baby images in particular that I love, and I might just treat myself to a few new designs.
Linking to Handmade Monday and the Lili of the Valley Monthly Challenge.