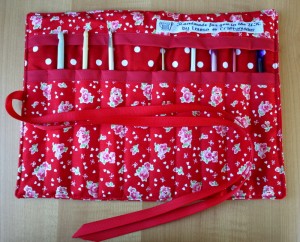 For the last few years I have wanted to learn to crochet.   I own about 10 hooks for some reason, I've got the books, I've made a crochet hook roll, but I've never progressed very far.
A couple of years ago I met up with Jean-Mary (@meanyjar) at a craft show.   We had been tweeting for some time, and after some retail therapy, we sat down for some lunch.   After a chat, she set about trying to teach me some crochet.   To say my hands were not designed for crochet was an understatement.   Just holding the yarn was a problem, holding the hook wasn't much better, and then moving the hook…you get the picture.
Despite this experience, Jean-Mary went on to open Betty Makes to teach her crafty skills to others.   I signed up for her crochet course which takes students from beginners, learning new skills and stitches, through to the granny square.
Lesson one started with picking up a small sample of crochet already started by Jean-Mary and working doubles into it.   Having someone else's stitches to work into was a lot easier than my first foray where my tight foundation chain was not having any of it.   A couple of rows of doubles later, (and holding the yarn properly for the first time ever!) I was doing trebles.   The satisfaction as my wonky, uneven mini sample grew was fantastic.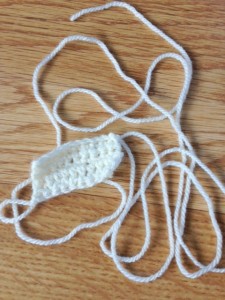 Next we moved on to working from a pattern.   I have discovered that it is hard to count to 29 when you are busy chatting and drinking tea, but my pot holder is growing nicely, albeit having gone down to 23 stitches somewhere!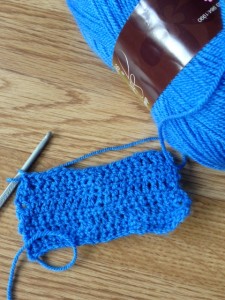 The cost of the course includes the hook, pattern and wool, so I have 2 weeks to practice my neatness and counting at home, before I go back and learn more.   Next lesson includes making some tea gloves.   Depending on my technique, I'll either wear them myself or end up giving them to the kids if I drop too many stitches!
Are you learning a new skill in 2014?