I've had a very productive few days.   I have organised, crafted, planned Brownie badges with eldest Craftyguidelet (Craft badge is first!) and decluttered.   However this morning I managed to throw my back out.   I was emptying the waste paper basket of all things!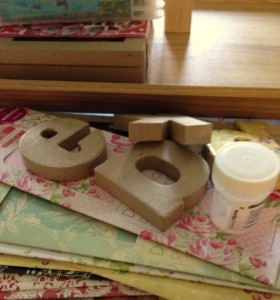 As we are having some work done on the house, I couldn't go back to bed so I have been stuck at the kitchen table with my ibuprofen and heat pad.   I did manage to get my decoupage papers and mod podge out and I've managed to complete my "bake" sign for my kitchen.   I used the Hobbycraft Deco Mache papers which are really pretty, and chose the colours to go with my handmade place mats which use Cath Kidston spotty fabric.
What I really needed to do today was photograph and list my new handmade cards.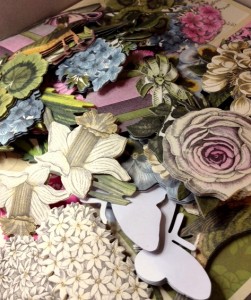 On Sunday I had a play with some Anna Griffin papers.   Look at the wonderful vintage images of flowers I was working with.   I've got a huge pile of cards to list for all sorts of occasions so keep an eye on the website.
This is one of my favourites.   I love the blue tones on this birthday card.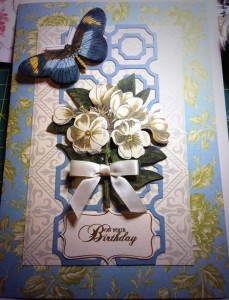 I also used some of my craft themed supplies.   This one uses a Sizzix die for the mannequin and some swirl dies that I bought a long time ago and have never used.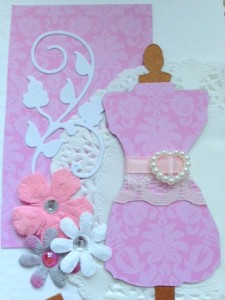 I have also been doing my crochet homework.   Regular readers would've read about my lesson with Jean-Mary at Betty Makes where she managed to tame my disobedient crochet hands into yarn holding, treble making, crochet wannabees.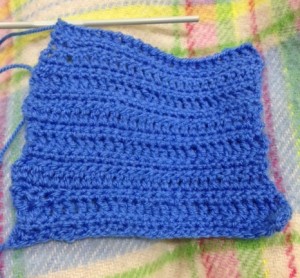 Still a bit wobbly, but look!   It's crochet!   I haven't counted my stitches or rows, but I think the technique is coming.

I've even tried the edging.   It's loops!   The pattern became a bit of a foreign language after this so it's not got much further.   Jean-Mary says I need to treble in my loops.   Hmmm.   Might get a translation and a few pointers tonight if my back will let me go to my lesson.
I've also managed to keep up my decluttering in January.   I'm still on track with my challenge to recycle a magazine a day.   The pile is going down.   I won't have finished a WIP a week though unless I get a sudden surge of creativity in the next few days, but I am getting more organised.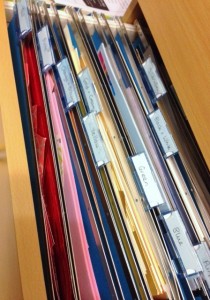 My loose crafting papers were in a box that was too heavy to get down from the shelf every time I made a card.   I managed to clear a space in a filing cabinet by turfing out some obsolete Guiding paperwork, and put the papers into files by colour.   I might actually use them now!   I've also sorted through my 12″x12″ scrapbooking papers and managed to do 3 scrapbook layouts.   No pics as I generally use photos of the Craftyguidelets in my scrapbooking, but it's been really nice to have a look through images of them as babies (yes, I'm that far behind!).
It's been a really productive January, so hopefully my back will clear up quickly and I can carry on.   I've got plans for February too to keep 2014 as a positive year for change.
Linking with Handmade Harbour's Handmade Monday.