Last week's menu went well and most things went to plan.   I even made a veggie chilli which I batched up for the freezer for the days when the meat eaters are having the main meal.
What didn't go to plan was my diet.   One of my Rainbows moved up to Brownies and presented me with a big box of Celebrations.   Well, it would be rude not to!   And watching Eurovision is always better with Baileys!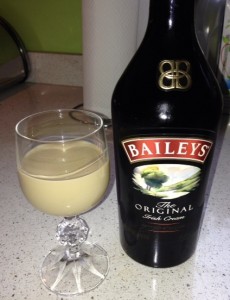 When I'm planning my menu for the week, I use a pad from Organised Mum.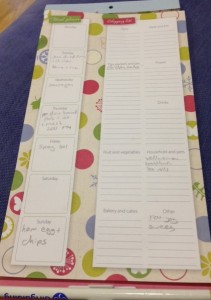 The left hand side is for planning out the week's menu, and as I go through, I work out what ingredients I need to buy and add them in sections – frozen, dairy, drinks etc.   The shopping list detaches via perforation for you to take to the supermarket.   The pad has a magnetic strip at the back for attaching to the fridge, or there is a hole at the top for hanging on a hook.   There is also a clip for a pencil at the bottom, so as long as your kids don't run off with it like mine do, you always have one to hand when you want to jot down something midweek.
Monday – Fish Pie
Tuesday – Sausage Casserole (and veggie chilli for me)
Wednesday – Pie or Chicken Nuggets
Thursday – Spaghetti Bolognese
Friday – Ham, Egg and Chips
Saturday and Sunday – Flexible days in case of eating out, takeaways or using stuff up
I am also using up some of the contents of the fridge to make some pasta sauces for freezing, and I'll also be doing one of my regular stock checks.   Perhaps next week will just be freezer dive week!
I am linking to Mrs M's Meal Planning Monday blog.   Pop along to see what everyone else has planned.