I have a lot of craft stuff as I have many different crafting interests.   I am an expert at packing it away, but this causes problems as I never know what I have, or it is so difficult to get at I never use it.   This week I have a had a sort out and tidy up as in 2 months, 18 days, 6 hours and 19 minutes (at time of writing!), a certain bearded, rotund, elderly gentleman will be doing his rounds.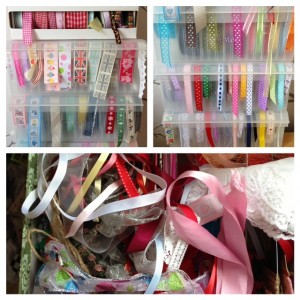 My ribbons are more organised, although I still have 2 disorganised boxes of scraps, lace, ric rac and "miscellaneous".   I have also sorted my embellishments for card making so it is easier to select a box of flowers or some crystals to use on projects.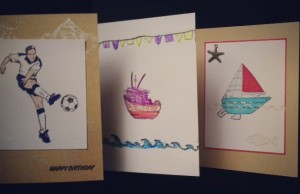 I've had a few family and friend cards to make including supervising these 3 for my dad.   From left to right, created by eldest Craftyguidelet, youngest Craftyguidelet and me.   Having access to all my stamps again meant a stamping frenzy.
The sewing machine has also had an airing.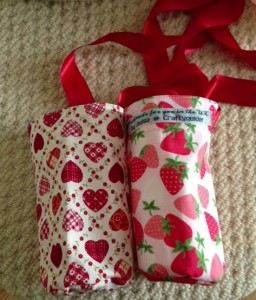 I've been meaning to make these holsters for the Craftyguidelets' water bottles for some time.   When they travel to and from school they have all sorts of luggage including book bags, PE kits, music folders and cardigans, and it's come up as a problem at the school parent forum.   Perhaps I can sell these at my next craft fair.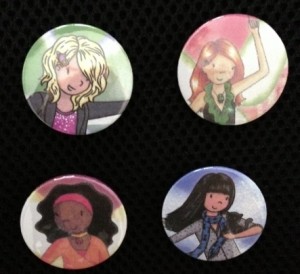 Having posted a picture of my Rainbow unit's latest batch of 'patrol' badges, a Rainbow leader on twitter requested some for her unit too.   She loves them and hopefully the Rainbows will too.
And now, those with delicate sensibilities should look away.   I am about to use the C word.
CHRISTMAS!!!!
Christmas card production has started.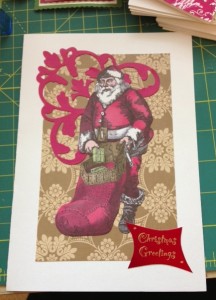 I have made 23 cards and glued together 14 decoupaged toppers.   Fortunately I have lots of pre-prepped bits and pieces so at the moment it is full steam ahead.   Needless to say it will slow down when I start on the stamping and colouring.
I have also started a bit of Christmas crafting.
These angels came in a kit I bought and didn't get round to making last year.   The instructions were poor but I managed to adjust them to make three decorations for my Christmas tree this year.   I also tried to finish making the leftover fabric pine cones that the Guides had last year for their Christmas craft.   The aim is to put them up for sale to put the funds back into the unit, like everything in my Craftyguider shop, however I ran out of pins so it's back to the shop I go for more.
I am really enjoying this flurry of crafting.   In a tough week health-wise, it's kept me going and I'm ticking off the WIPs.
Have you started your Christmas crafting yet?
Linking with Handmade Harbour's Handmade Monday linky party.