Over the next week or so I will have to bake a lot for the WI and school stalls at the local May Day celebrations, as well as when I host some Rainbow mums chopping fudge for the Rainbow stall (as bribery!).   This is in addition to preparing for the Guide stall when I will be selling my Craftyguider goods (no cake involved!).
As a warm up, youngest Craftyguidelet and I made some raspberry and white chocolate muffins.
As daddy is gluten intolerant, we try and make gluten free cakes.   An excellent purchase recently was the Cake Angels book by Julia Thomas.   In the past I've used (and loved) Phil Vickery's Seriously Good! books, but the recipes require blends of different flours, some of which need to be bought online from shops that charge large p&p rates.   The Cake Angels book uses standard gluten free flours available from most supermarkets.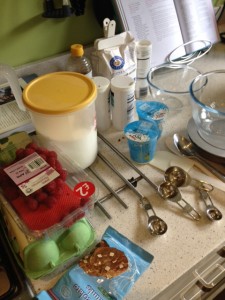 The recipe is for both dairy and gluten intolerants, but as dairy isn't a problem in our house, I just substituted standard yogurt, chocolate and butter.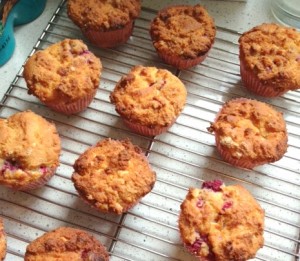 The batter looked a bit strange when it went into the cake cases, but the finished result was lovely.   Little Craftyguidelet was very proud serving them to the family.
Julia Thomas started her dairy free baking following cancer when she was expecting her first child.   She then moved on to gluten free baking when a friend asked for gluten and wheat free cakes for her son.   She developed a bespoke baking service and couriered cakes to customers, before putting some of her best recipes in her Cake Angels book.
So far I've tried the Chocolate banana loaf, Lemon loaf, Sticky toffee traybake, Chocolate brownies, Lemon butterfly cakes, and Almond and cherry cupcakes, and all have turned out well.   You really don't miss the gluten.
If you want to bake a cake without dairy or gluten, most cakes have a version contained in the book.   There are even frosting recipes at the back.     It's a really good starter book for baking for intolerances, and as long as you can get hold of some xanthan gum which adds texture to the gluten free flour, you should end up with a great result to satisfy both intolerants and gluten eaters alike.
I bought this book myself and all opinions expressed are my own.   The only benefit I have had is the delicious cakes baked using the recipes!