That sounds like something medical, doesn't it?   It's actually the next Popular Crafts magazine craft swap, and this time I was linked with the lovely @sarahwalters99.
Her likes included fabric, buttons, pink and girlie so I got my thinking cap on and came up with a heart door hanger.   A bit of IKEA curtain remnant (which I use A LOT!), some buttons, some felt, embroidery thread, a Sizzix Big Shot and flower Framelits die and a bit of stuffing and I came up with this.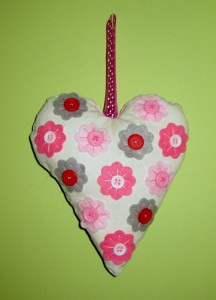 I had so much fun creating this.   It was different, creative and I got the same feeling that I got when my owls fluttered their eyelashes back at me for the first time.   My Craftyguidelets both want them for their bedrooms now!
Going with the pink theme, the treat I bought was a mini metal pink bucket (just because it was pink and looked cute) and some heart shaped buttons (again- pink, cute, themed, buttons)
And the best bit of any swap?   The goodies that arrive in the post!
Sarah worried for ages about her swap but she needn't have.   It's great!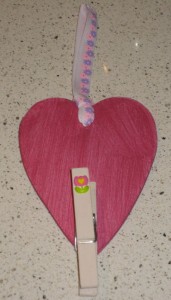 This fabulous wooden heart with a cute flower embellished peg is lovely.   I've always wanted one and it's the perfect colour for my kitchen.   At the moment it's keeping all my miscellaneous papers in check.   I love love love it!
My treat was a real treat.
In a lovely glittery bag I got a crochet hook (I want to learn to crochet!), some multi coloured jade beads (I'm also starting jewellery making!) and two heart sweets.   The note with them said that they were to have during my crochet trials but they've already gone.   I gave up chocolate for Lent so I needed a sugar fix.
My aim this year was to participate in a craft swap but I'm now hooked (no pun intended!).   Next swap – Spring!!!!!