Back again to the meal planning blog.   Last week, I was in Disney so relied on the good to OK to average to poor offerings from Mickey Mouse.   I do miss the breakfasts though!
Dinner on Wednesday was a pizza bought from a supermarket in the motorway services on the way home.   Thursday was defrosted sausages and Friday was cheesy mushroom pasta followed by apple crumble.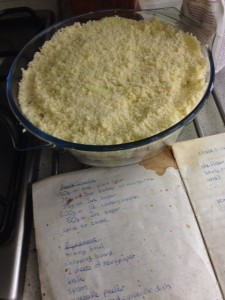 I've been using this apple crumble recipe for 30 years now since I was at school.   The exercise book is my original one from my Home Economics class when we actually learned to cook rather than whatever they do for GCSE nowadays.   I didn't take Home Ec O Level (yes, I was educated that long ago!), but it did give me the basics of what to do.   I think some of the other recipes use ounces and lard and other prehistoric terms, but this recipe has translated well and I now make a gluten free version that goes down well with the whole family.
This week, the family will be eating:
Monday: Gluten free chicken and ham pie using leftover chicken from Sunday's roast and freezer dive for me
Tuesday: Italian baked pollock with Jersey royals
Wednesday: Vegetable pasta bake
Thursday:Vegetable goulash and rice
Friday: Ham, egg and chips
Saturday: Freezer dive
Sunday: I'll think of something!
 As usual, I am linking to Mrs M's Meal Planning Monday blog and hoping to get some inspiration for next week from some of the other bloggers.