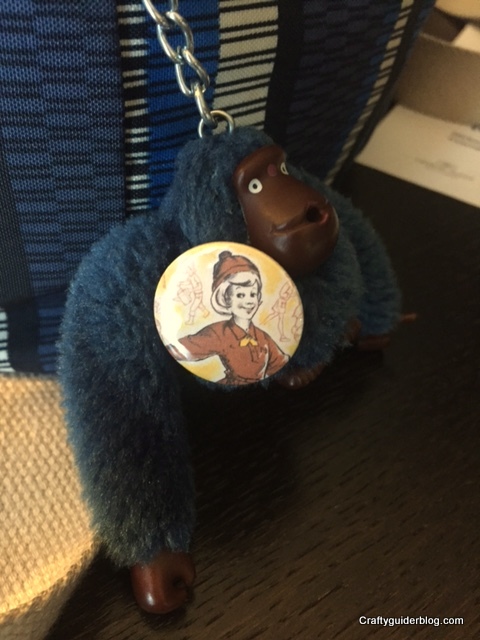 On January 30th, Mr CG, the monkey and I headed to the ICC in Birmingham for the #SBSevent2015.   For those not in the know, #SBS is the twitter hashtag for Small Business Sunday, an initiative set up by Theo Paphitis.   Small business owners tweet to @theopaphitis on Sundays between 5pm and 7.30pm.   He personally chooses 6 winners and retweets them to his 462,199 followers (at time of writing).   I won on 6th January 2014 and for a week my twitter feed went mad, I wrote press releases for the local paper and the national Guiding magazine and tried to put Craftyguider out there.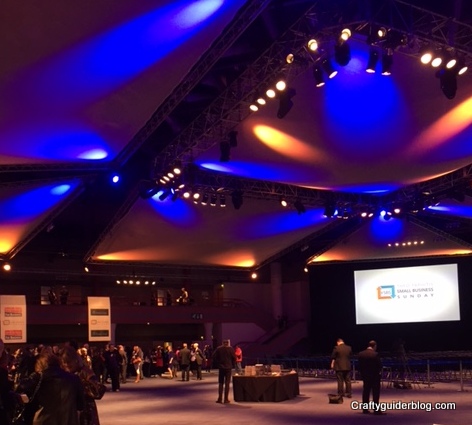 About every 12 months or so, all winners of the #SBS awards get to go to a big event for networking, Q&A and meeting the man himself.   I felt a bit out of my depth as I'm not a career woman any more.   Craftyguider is a fundraising venture and I take no money from the business other than material costs.  It's lovely when people do buy from me as it means a lot that someone has appreciated something I've created, and it means a lot to my Guides who benefit from the money that I invest in the unit.

After the networking session, Kypros Kyprianou, Group CEO of Ryman Stationery (and fellow Spurs fan!), took to the stage to introduce the next part of the day, and then his boss, Theo Paphitis.
Theo talked through some of the great things that were happening with SBS, including the newly updated SBS website.   I've been on and updated my profile page already.
After lunch, there was a Q&A session with Julien Callede, co-founder of Made.com, Judy Naake who introduced St Tropez tans to the UK, and Rob Forkan, co-founder of Gandy's flip flops.
Towards the end of the questions (which overran their time slot), some people started queuing for their photo with Theo.   I didn't as I thought it would be a bit rude to walk out on the session, and I was interested in what people were saying.  Some people had long journeys ahead of them though, and with the cold weather, they probably needed to get away as quickly as possible.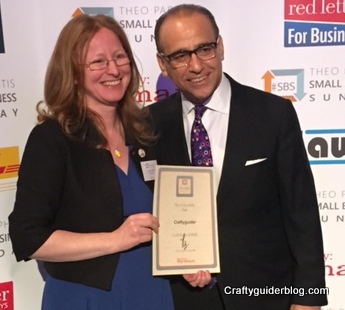 And this is me with my certificate and Theo.   By this time, I managed to squeak to him that I was Craftyguider, a Guide leader who made things, before my voice gave out completely!   Mr CG has had the benefit of me being almost silent for more than 48 hours now.   We collected our goody bags and fortunately had a clear journey home to relieve my parents from their 24 hour babysitting stint.
And when I got home, I found I'd been nominated to receive a Certificate of Good Service from Girlguiding Hertfordshire "for being totally devoted to Girlguiding and for helping in many and varied roles".   Whilst my #SBS is fantastic, this Guiding award is more special to me.   It means that 2 people have taken the trouble to write nomination letters for me, my commissioner has agreed the nomination, and that the awards committee have approved it.
I'll be back at #SBS next year.   Mr CG has said he might want me to try and get an #SBS for his company, and eldest Craftyguidelet will shortly launch her polymer clay jewellery.   #SBS winner at 8 years old?